About Us
Global Ace is a human resources and personnel consulting firm which aims at proffering solutions to the diverse challenges facing different types of organization through tested and proven human resource management practices and strategies.
We offer different kinds of Human Resource and Personnel Services ranging from Recruitment Services, Training and Development, Human Resource Planning, Staff Administration Services and other services at the request of our clients.
Based on the understanding that human resources are the greatest assets which an organization possess; the efficient performance and quality of an organization is determined by the quality of the its human resources; thereby Global Ace is committed to ensuring that our clients enjoy the best human resource advisory and personnel services.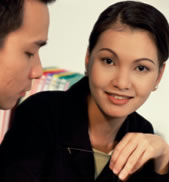 Mission Statement
Our Mission Statement is that through a professional client focused approach, we aim to ensure value is added to the HR assets of our clients in such a way that would guarantee efficiency and effectiveness of the their business operations and services.
Our corporate goal is to become a significant market player in the human consulting and personnel recruitment Industry both locally, nationally and globally.
Corporate Values
At Global Ace our service and operations are based on these core corporate values;
Professionalism
Win-Win Approach
Client Driven and Customized Services
Team work
Diligence and Hard work
Corporate Social Responsibility
All Rights Reserved ©2007